Webinars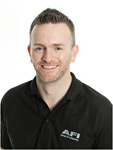 Brian Parker AFI Business Development Manager (Technical Support) Grand IOSH
Health & Safety is a cornerstone of the AFI group of companies, and we are committed to promoting good Health & Safety practice to our customers and the wider market.
As part of this strong commitment to Health & Safety every quarter we run a webinar giving you helpful information on current topics of interest for those that use Powered Access.
Your webinar presenter is Brian Parker, our Business Development Manager, Technical Support. Brian has held senior health and safety roles within the working at height sector for nearly 20 years, including 11 years as a senior IPAF training instructor.
He is an IPAF Council member and a past Chairman and current member of IPAF's Training Committee, as well as sitting on the Strategic Forum Plant Safety Group MEWPs Committee.